Rock School and Guildhall grades taught | All ages and abilities welcome | All styles of music taught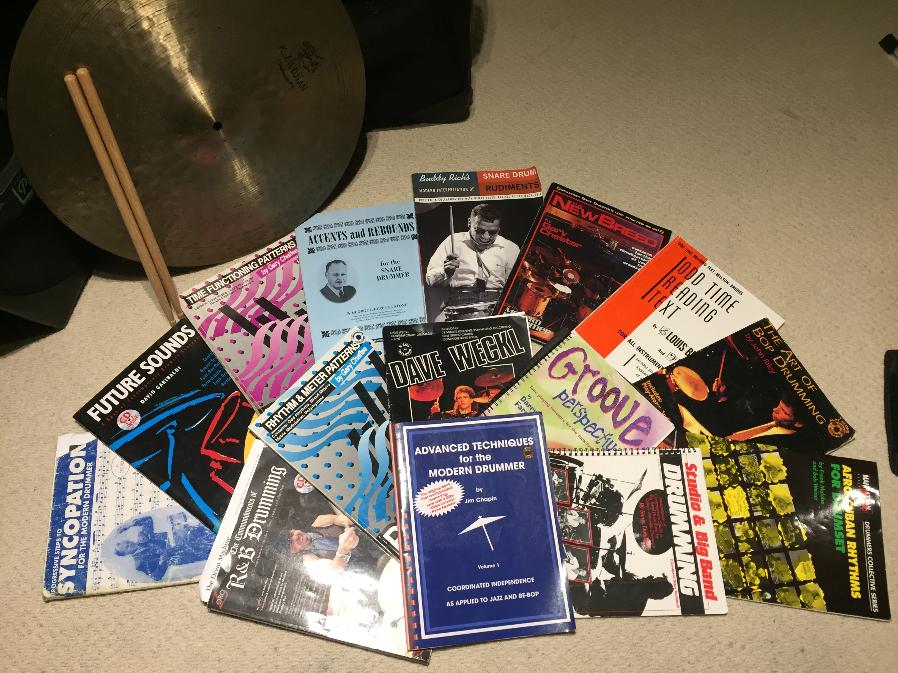 Example Lesson Material
Lessons will cover your individual wants and needs as a drummer but below is an example of some of the areas that you may wish to study:

Sight Reading
Hand and Foot Technique (including Moeller Technique)
Musical Theory
Styles of Music (Jazz, Rock, Funk, Pop etc)
Time Feel
Linear Time Playing
Layered Hand Patterns
Independence
Brush Playing
Phrasing
Transcription and Notation
Stylised Playing (playing in the style of a favourite player)

Handouts are supplied with each lesson

Having taught a large amount of drummers of varying abilities and ages over the years I have become adept at being able to quickly assess the strengths and weakness of individual players and then develop appropriate learning material (or just give advice) depending on the issue to help move the individual on to their next stage of development.
I have successfully guided my students to achieve 70% and over in more than 80 grade examinations of various levels and no student has ever failed a grade examination under my guidance. I attribute this level of success to the preparation for the grade exams and to the work I do with students to help them overcome nerves and prepare for performance.
Testimonials
Matt is clearly dedicated to my progress and success, and I have seen myself improve greatly under his tuition, more so than other drummers I know have with their own teachers. If it was not for his own passionate attitude towards the drums, I would not be as committed to or enjoy playing the drums as much as I do now, so thank you Matt!

Alex Pattle
I have had a few drum tutors over the years and I regard Matt Raymond as one of my best. Matt has a friendly and relaxed, yet confident, style of tutoring, and while he will quickly assess your weaknesses and your strengths he will also give you the confidence and understanding to help you improve. Matt understands that we can not all dedicate as much time as we would like to practice and as such works his teaching around your ability and eagerness to learn. One of his strengths is technique and consequently my own technique has greatly improved and I feel much more comfortable in my own ability as a result. If you're looking for a new drum tutor, look no further than Matt. I've been with him for about 4 years now and I am a better drummer for it.
Steve Duffy